Technical Program
Monday, January 6
9:00 AM - 9:30 AM
Opening
---
9:30 AM - 10:30 AM
Keynote 1 The Impact of Internet Evolution on Mobile and Ubiquitous Networking
Professor Shinji Shimojo (Cybermedia Center, Osaka University, Japan)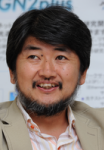 Abstract: Internet Evolution put a large impact on our daily life. The Internet is a big enabler of our future society. Recently, the Internet technology is going to have a big leap which is called Future Internet. Underlying technologies are, for example, Software Defined Network, network virtualization, Contents Centric Network and Delay Tolerant Network. In this talk, we think about how these new technologies have impact on mobile and ubiquitous networking, and especially on smart city applications.
---
10:30 AM - 11:00 AM
Coffee Break
---
11:00 AM - 12:20 PM
Mobile Phone Applications and Games
Feature Reduction for Floor-changing Activity Recognition in Multi-Floor Pedestrian Navigation

A Model-based Energy Profiler using Online Logging for Android Applications

Gamelets - Multiplayer Mobile Games with Distributed Micro-Clouds

PARVAI - HVS Aware Adaptive Display Power Management for Mobile Games
---
12:20 PM - 1:30 PM
Lunch
---
1:30 PM - 2:50 PM
Wireless Networks
Development of Mobile Communication Framework based on NTMobile

Performance Evaluation of MDT Assisted LTE RF Fingerprint Framework

A Wireless Full-duplex and Multi-hop Network with Collision Avoidance using Directional Antennas

Characterization of the OFDM cooperative communication on the assumption IEEE802.11a
---
2:50 PM - 3:20 PM
Coffee Break
---
3:20 PM - 4:20 PM
Security and Privacy
Preventing Denial-of-request Inference Attacks in Location-sharing Services

Putting 'Pressure' on Mobile Authentication

Privacy Protection in WiFi-based Location Estimation
---
4:20 PM - 4:30 PM
Short Break
---
4:30 PM - 5:00 PM
One Minute Madness
Demos and Posters Preview
---
5:00 PM - 5:30 PM
LiveLabs & SMU tour
---
5:30 PM - 7:00 PM
Demos and Posters Session w/ Reception
Detection and Notification of Dangerous Obstacles and Places for Visually Impaired Persons Using a Smart White Cane

Combining Local Channel Selection with Routing Metrics in Multi-channel Wireless Mesh Networks

Proposal for an Ad-hoc Routing Protocol considering Traffic Conditions and Evaluation of UDP using a Redundant Route

Reduction in the Amount of Probe Data During Smartphone Use of Telematics Services

MIMO Full-Duplex Wireless: Node Architecture and Medium Access Control Protocol

Proposal for a Seamless Connection Method for Remotely Located Bluetooth Devices

An Intelligent System to Detect, Avoid and Maintain Potholes: A Graph Theoretic Approach

Designing Application as a Sensor (AaaS) Approach for User Attention Sensing

Comparative Evaluation of Heuristics for Time Slot Assignment in IEEE 802.16j Relay Networks

Car Navigation User Interface Based on a Smartphone

Experimental Implementation of Drifting Wireless Sensor Networks Which Have Intermittent Connectivity to Access Points for Sewer Inspection

Experimental Evaluation of the Effects with Backtrack Search and Notification Messages in the Node-disjoint Multipath Scheme for Secure Dispersed Data Transfer Method

Implementation of WiFi/Bluetooth-based Smart Narrow Field Communication

Logging All the Touch Operations on Android

Destination Prediction Considering Both Tweet Contents and Location Transition History

Reducing Collisions of a TCP Stream on Multi-Hop Wireless Networks

Robust QoS Scheduling Using Alternate Path for Recovery From Link Failure in IEEE 802.15.4e

Location-aware Contents Distribution Platform Based on Probe Vehicle Systems

Investigation of the Routing Method Based on the Number of Neighbor Nodes
---
Tuesday, January 7
---
9:30 AM - 10:30 AM
Keynote 2 Emerging trends and its impact on Future Cities and our research agenda
Mr Leong Mun Yuen (Chief Technology Officer & Senior Director, Infocomm Development Authority of Singapore)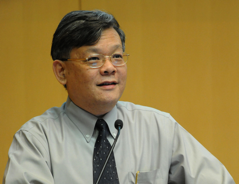 Abstract: Urbanisation as a trend has great influence on personal mobility and lifestyle. Singapore faces no exception in the face of rapid urbanisation, with the strong need to allocate land for economic, social, infrastructural and national needs. Emerging technology trends such as Open Data, Internet of Things, Wearable Sensors, and Geospatial technologies will impact our journey to a liveable and sustainable city. Research, along with pilots and trials in real-world situations will be key to build Future Cities.
---
10:30 AM - 11:00 AM
Coffee Break
---
11:00 AM - 12:20 PM
Localization and Location Context
Companion Context Dependent Topic Modeling

Proposal for a Wireless Sensor Network Visualization System Using Location Estimation Technology

DECL: A Circular Inference Method for Indoor Pedestrian Localization Using Phone Inertial Sensors

Proposal of a Platform Integrating POI Information
---
12:20 PM - 1:30 PM
Lunch
---
1:30 PM - 2:40 PM
Panel: Urban Computing: Emerging Research Fields and Challenges
Yutaka Akarawa (NAIST, Japan)
Mun Choon CHAN (National University of Singapore, Singapore)
Nobuo Kawaguchi (Nagoya University, Japan)
LIM Hock Beng (Nangyang Technological University, Singapore)
---
2:40 PM - 3:10 PM
Coffee Break
---
3:10 PM - 4:30 PM
Ad Hoc Networks and DTN
Improvement of Energy Consumption and Detection Power for PVFS in Wireless Sensor Networks

Data Collection Method Using Two Types of Forwarding Nodes for Energy Saving in Triage Network

Adaptive Delay-based Geocast Protocol for Data Dissemination in Urban VANET

Content-Based Data Prioritization for Fast Disaster Images Collection in Delay Tolerant Network
---
4:30 PM - 9:00 PM
Excursion and Gala Dinner
Usually formal attire is not necessary. We would suggest smart casual i.e. polo shirt and pants are fine.
---
Wednesday, January 8
---
9:30 AM - 10:50 AM
Urban Sensing
The Impact of Remote Sensing on the Everyday Lives of Mobile Users in Urban Areas

Estimation of User's Activity from Tweets through Tri-Layer Clustering Model

A Method for Summarizing and Visualizing City Traffic Data

RasteyRishtey: A Social Incentive System to Crowdsource Road Traffic Information In Developing Regions
---
10:50 AM - 11:10 AM
Coffee Break
---
11:10 AM - 12:30 PM
Multihop Wireless and Sensor Networks
Prediction of the Appearance of Monkeys Based on Weather Data and Wireless Sensing Network

Researches and Evaluation of Strong Busy Tone that Improves the Performance of Ad-hoc Networks

An Implementation and Evaluation of a Selective QoS-aware Mobile Multicasting on Multiple Wireless Networks

Multi-view Video Live Streaming for Multiple Users under Hybrid Multicast-Unicast Scheme
---
12:30 PM - 12:40 PM
Closing