Registration
Registration Fees
| Category | Early (-Dec. 20, 2014) | Late (Dec. 21, 2014-) |
| --- | --- | --- |
| Full Registration (IEEE/IPSJ Member) | 70,000 JPY | 80,000 JPY |
| Full Registration (Non-Member) | 85,000 JPY | 95,000 JPY |
| Student Registration (IEEE/IPSJ Member) | 35,000 JPY | 40,000 JPY |
| Student Registration (Non-Member) | 45,000 JPY | 48,000 JPY |
Important Notes:
All attendees must register for the ICMU 2015 conference.
Each accepted regular paper REQUIRES at least one FULL registration before the camera ready paper can be uploaded into EDAS. Please make sure to register by October 24th, 2014, otherwise the paper will not be published in the conference proceedings.
One FULL registration covers one paper. If you have more than one accepted paper, you must pay an additional extra charge of 40,000 JPY for each additional paper. It is encouraged to have your co-authors to register and attend the conference.
If the first author of a poster/demo paper is a student, the accepted paper does NOT REQUIRE FULL registration. One STUDENT REGISTRATION can cover one poster/demo paper.
The standard page limit for each regular paper is 6 pages. Papers can exceed this limit up to 2 additional pages, at a cost of 10,000 JPY per extra page.
If you register as a student, please send a scanned copy of confirmation document of your student status to Ayumu Kubota,Registration Co-chair, kubota@kddilabs.jp. For more information, please refer the registration confirmation mail that will be sent to you after you finish Step 1 of the registration process.
To get the early registration discount, you need to COMPLETE PAYMENT before Dec. 21, 2014. Just submitting registration information early does not make you eligible for the discount.
Registration fees for Non-member Student changed from 42,000/47,000 JPY to 45,000/48,000 JPY. The price on Paypal payment for Non-member Student Early Registration has been 45,000 JPY, so no action is required for those who completed the payment. Sorry for the confusion.
Instructions for Registration
Please read the following instructions carefully before registering.
Fill up the information registration form. After information registration, we request you to pay your registration fee by PayPal. PayPal is a secure means of payment which can send money without letting the receiver know the sender's bank/credit-card information.
Step 1: Information Registration
Please access the Information Registration Form and register your information.
After filling up the form, click "Submit" button. Once you complete Information Registration successfully, a confirmation email will be sent to your registered E-mail address automatically. Please read the confirmation E-mail.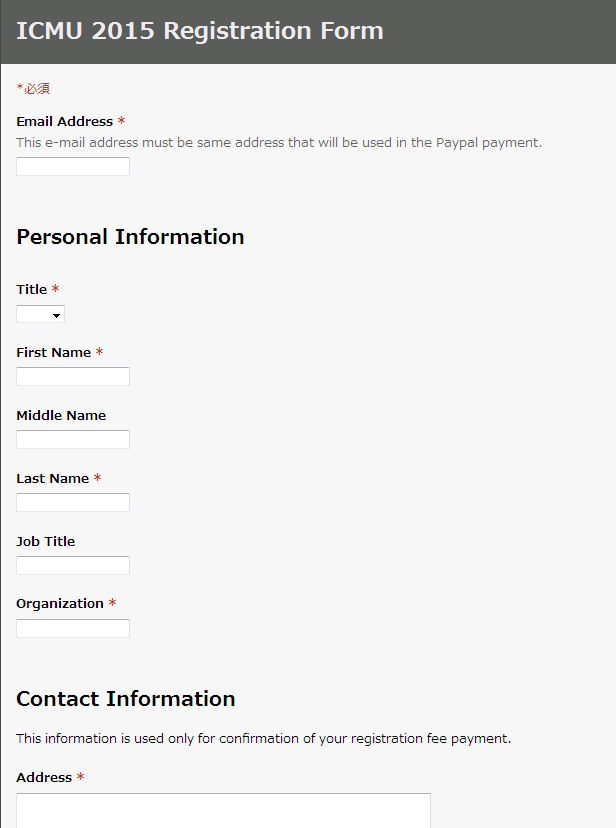 Step 2: Registration Item Selection
Please select a registration item you want from below this instructions by clicking "Add to Cart" button. The selected registration item will populate in your cart.
After selecting your registration items, click "Check Out" button. Then the page will shift to login page of PayPal.
Step 3: Payment of Registration Fee with PayPal
(A) If you have a PayPal account:
Please log in to PayPal and pay the fee.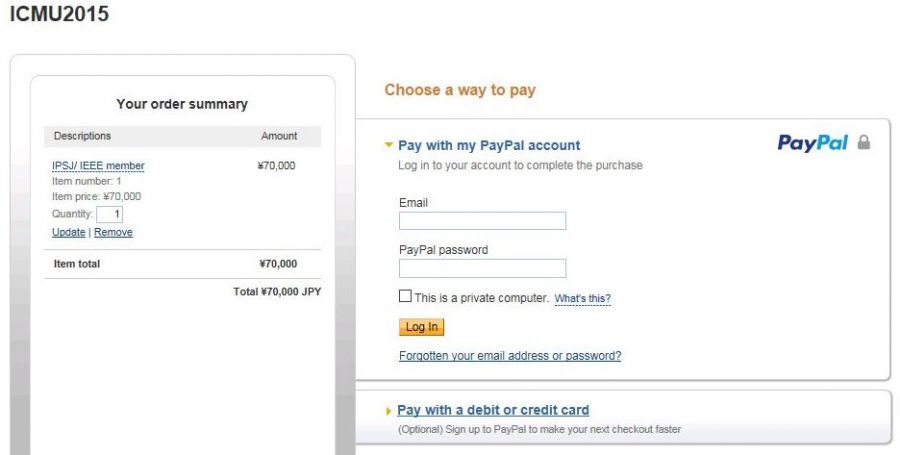 (B) If you do not have a PayPal account:
Please click "Pay with a debit or credit card" and fill up the details of your credit card. Then click "Pay" button.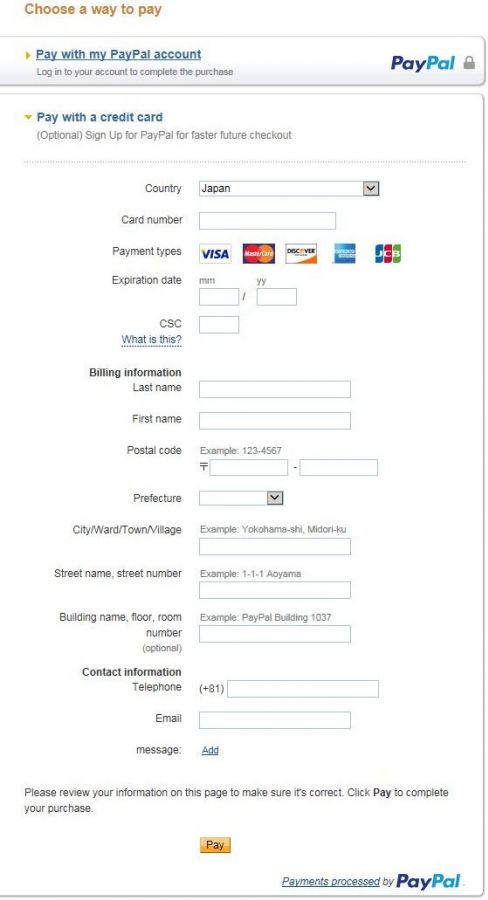 After the settlement being complete, you will receive an E-mail titled "Your payment to ICMU2015" from PayPal. If you couldn't find the E-mail, please check your junk mail folder.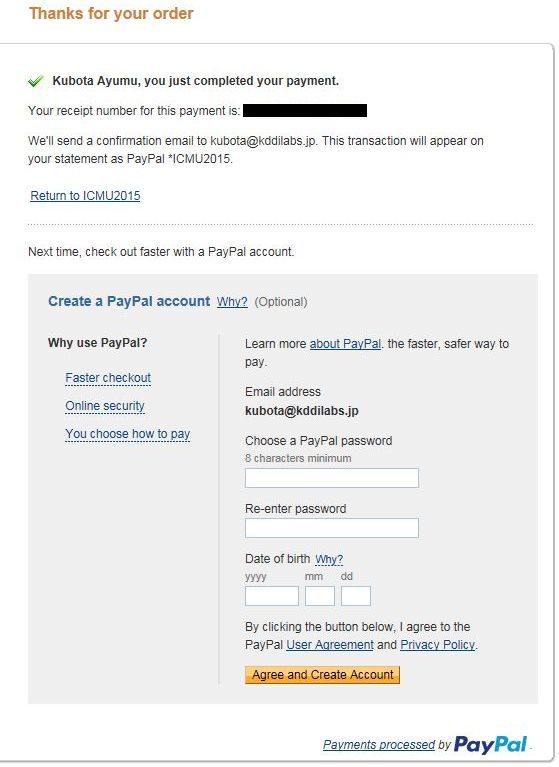 If you do not receive the E-mail with a few days, please email Ayumu Kubota, Registration Co-Chair and Ryozo Kiyohara, Financial Co-Chair.
Payment
Category
Early
(-Dec. 20, 2014)
Late
(Dec. 21, 2014-)
Full Registration (IEEE/IPSJ Member)
70,000 JPY
80,000 JPY
Full Registration (Non-Member)
85,000 JPY
95,000 JPY
Student Registration (IEEE/IPSJ Member)
35,000 JPY
40,000 JPY
Student Registration (Non-Member)
45,000 JPY
48,000 JPY
Extra Paper Charge
40,000 JPY/paper
Extra Page Charge
10,000 JPY/page
Cancellation Policy
For Speakers:
No refunds will be issued for speakers regardless of reason.
For Participants:
Cancellations on or prior to Dec. 20, 2014 will incur a 10% cancellation charge. No refunds will be issued after this date.
Please submit cancellation requests in writting to the Registration co-chairs.
Visa Information
For the conference participants who require Singapore visa, please find detailed information at http://www.mofa.go.jp/j_info/visit/visa/. If you need an official supporting document from ICMU, please send a request to Ayumu Kubota,Registration Co-chair, kubota@kddilabs.jp.
Contact Address
If you have any questions and requests about the registration, please contact us.
Registration Process related questions:
Payment related questions:
Visa related questions: